SMASH and St Mary of Charity C of E (Aided) Primary School
and made by Rev Alice Pettit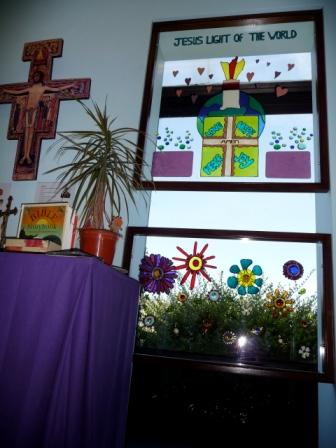 SMASH is the 'St Mary's After School Hour' offering fun, friendship, drama, crafts and songs to the pupils of St Mary's school in Faversham. It is a children's club with a Christian message. SMASH is held at 3.30 pm every first and third Tuesday each month in the main school hall.

For further information and an update on activities please use the following link SMASH


Other activities at the school - which are also on Tuesdays - are:
0 - 90s Club
On the last Tuesday of each term residents from the local residential homes get together with families from the school. It has run successfully since July and it would be great to see you there! Fun starts at 3.15 pm and includes refreshments, games, singing and stories. It is fascinating for the younger people in the group to hear about the lives of the older members.
Five minutes' peace:
Each first and third Tuesday of each month between 9 and 9.15 am in the school chapel. It is an opportunity for parents and others to come together to pray for the school and its community.
Coffee Club:
Second and fourth Friday of every month between 9 and 10 am. Not just a chance to get together and chat, there is also a programme of speakers and activities. Coming activities for the next few months are:
22 January
Visit to St Mary of Charity. An opportunity to have a brief guided tour of the church - seeing some areas which you would not normally be able to visit and to have a bit of history with a twist. Tour ends with refreshments.
Easter Sugarcraft
Get ahead of yourself with some tips for decorating Easter biscuits. Demonstration, with a chance to join in and try for yourself, with Catriona Cuthbert.
Rev Simon Rowlands Meet the new Priest-in-Charge at St Mary of Charity, a month after his Licensing service. Simon will give us a brief description of how he came to SMC, and what he, along with the congregation, hopes to be doing in the future.