Faversham Parish Church is particularly lucky in that its music is of a consistently high standard. The choir perform cathedral repertoire each week and sing a full range of choral services while the excellent music group lead more 'contemporary' services.

The church choir is similar in format to a cathedral choir in that it consists of trebles (boys and girls aged six and upwards) and adult altos, tenors and basses. The treble section of the choir is always lively and has been the means of introducing many boys, girls and teenagers (and their families!) to the church. The members are all musically able, some with previous musical training, but by no means all.

The choir is also a part of church life that can be richly rewarding for adult members. The spirituality of music forms an important part of the church's ministry and has been the means of drawing a great many people to the church. The contemplative service of Compline the choir performed in Lent this year was a particularly moving one as was the performance of Allegri's Miserere in the same season. More upbeat music from this year's music lists has included Handel's Zadok the Priest, and Parry's I Was Glad at the Civic Service for the Queen's Golden Jubilee.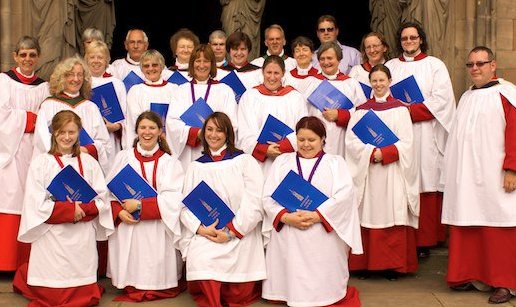 The choir's tour to Litchfield Cathedral
Director of Music

Our new Director of Music, James Brown, has now started at St Mary of Charity. We look forward to working with James in his new role.
The main role of the choirmaster is to direct the choir when performing our repertoire. Their musical experience is also used in the task of teaching new choral works. During the course of rehearsals, the choir's voices are developed and their musical knowledge is expanded.
Join the Choir
Are you a good singer? Join the choir! If not, would you like to be? Then join the choir!

All singers receive individual and group singing tuition as part of their membership of the choir and are assisted to achieve their full musical potential.

The choir consists of trebles (boys and girls aged from age six), and adults singing alto, tenor or bass. Musical experience is an advantage but not a necessity when joining the choir. We only ask for enthusiasm and commitment!

All trebles work through a structured plan of personal and musical goals and receive medals that are worn in church services on achievement of these, including RSCM Awards.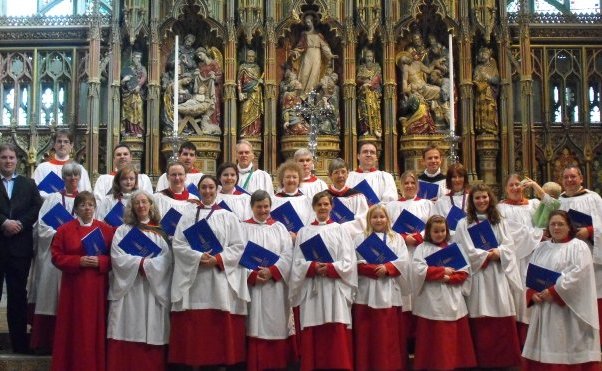 The choir on their tour to Gloucester Cathedral
They also receive choir pay on a scale graded according to ability and understanding. The experience they gain as part of the choir has been shown to increase their academic achievement and has led to successes in gaining music scholarships to prestigious local schools.

Adult members of the choir include music professionals and enthusiastic amateurs who also sing in local choral societies and in numerous other musical events.
The music group is also currently seeking new members. The group regularly leads worship within the church and currently includes singers, guitarists and wind players, supported by the church's clavinova. All styles of worship music are performed and anyone with a musical talent they would like to use within the church would be warmly welcomed.

Further Information
Commitment and enthusiasm are the only requirements for joining the choir and we would love to hear from boys and girls and adult men and women singers.

Please contact choir@stmaryofcharity.org or telephone 01795 530553 (Parish Administrator) and your details will be forwarded on straight away.