Events in 2019:
First Rehearsal for Singalong Christmas
10 am – 12 noon (and 1-3 pm)
Saturday, 9 November 2019
St Mary of Charity
Calling anyone of any age who enjoys singing, acting, dancing, puppeteering, stage management etc...
Singalong Christmas tells the Christmas story through singing, acting, dancing, puppets, silhouetted mime, animated scenery, hits and parodies from recent decades and lots and lots of audience participation.
Singalong has been enjoyed by cast and audience of all ages for nine years and the rehearsals are lots of fun for those who already enjoy church and also for those who really don't.
Experience Singalong for yourself and please do invite anyone who'd like to be involved!
See you there!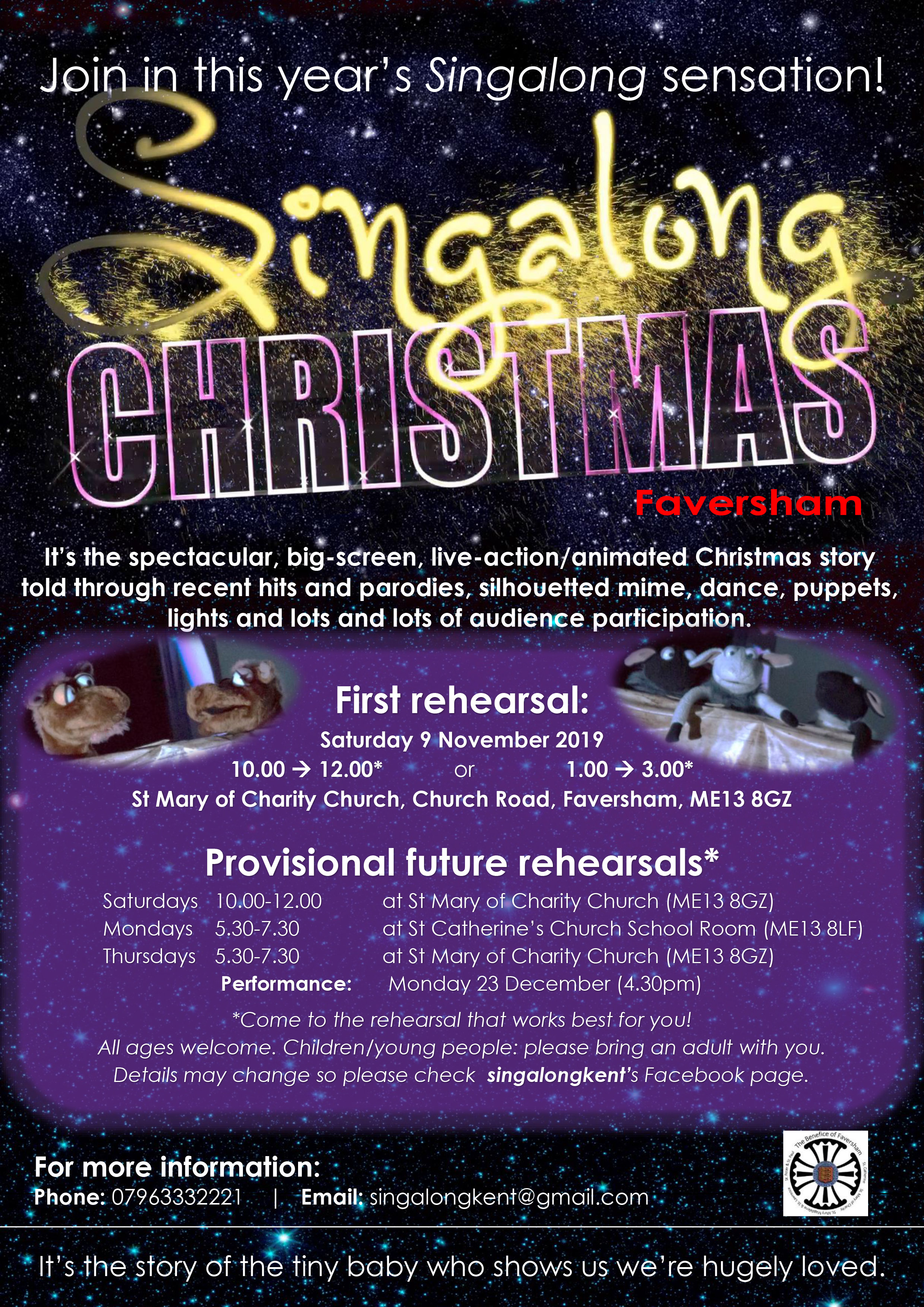 Musique Cordiale
7.30 pm, Saturday, 16 November 2019
At St Mary of Charity
Dima Bawab, soprano
Katie Bray, mezzo-soprano
Aidan Coburn, tenor
Frederick Long, bass
Graham Ross will be conducting a Musique Cordiale orchestra made up of highly talented musicians, who are returning to Faversham for one of their popular concerts. They will be joined by their choir and four soloists to perform Messiah, by Handel.
Tickets available from their

website

, or at the door on the night. Ticket prices are:
Premium seats £15 each
Friends of Musique Cordiale £10 each
Standard seats £10 each
Full time students/over 80s £5 each
Under 12 (must be accompanied by an adult) £2 each.

 
Contemplating Christmas
10.30 am, Friday 28 November 2019
10.30 am, Friday, 6, 13 and 20 December 2019
At St Mary of Charity (Trinity Chapel)

The Christmas Story through the eyes of St Luke.
spend an hour this Advent with reflections, silence and music.

Contemplating Christmas will also be held at St Mary Magdalene with St Lawrence, Davington and The Brents at 7 pm on Thursdays: 28 November and 5, 12, and 19 December 2019.



Faversham Choral Society
Christmas Concert
5.30 pm, Saturday, 14 December 2019
At St Mary of Charity

Come and enjoy a selection of seasonal music and join in with some of your favourite Christmas carols. Please note the earlier time of this popular concert.

Information on tickets and pricing will be available nearer the event.


Faversham Voices and Faversham Music Club
Waterways
29 February 2020
At St Mary of Charity
A project celebrating the waterways, creeks, quays and marshes of Kent. The performance will bring together many local singing groups with Faversham Voices and sound, text and visuals to create a spectacular event.

More details will be available later in the year.



Keep watching this space ...